The White Sails A Capella Chorus celebrates 45 harmonious years!
We were thrilled that we were able to reach out to so many past members of the Chorus, so we took the opportunity for a group photo.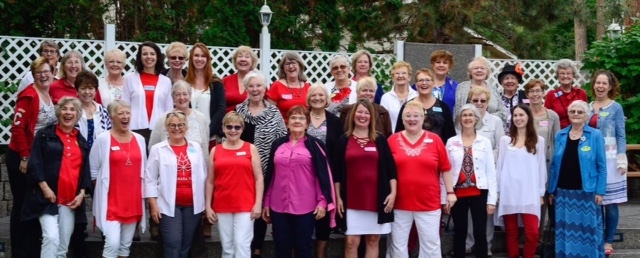 (If you are a past member and would like to be added to our database for future events, please contact us at [email protected])
The mandate of our organisation is threefold: Education, Competition and Performance.
We have now sung for an entire season with our wonderful 'new' Musical Director Lisa-Joy Dubois. She is a long-time vocal educator , and under her guidance the Chorus is committed to learning and applying the techniques of the barbershop style to its delightful and entertaining repertoire.
COMMUNITY INVOLVEMENT:
The Chorus regularly entertains at civic events and charitable functions such as the CIBC Run for the Cure, Downtown Kelowna Light-Up, Prospera Place Christmas Craft Show, Mission Park Shopping Centre, community socials and local care homes. 
We give back to the community through public performances across Kelowna and at Seniors' care facilities. We also actively support the Sing For Your Life Foundation by volunteering at Silver Song Clubs: regular sessions of singing and music making for older people.
The White Sails A Cappella Chorus are members of the Arts Council of the Central Okanagan (ARTSCO) and are affiliated supporters of the BC Choral Federation.
| | |
| --- | --- |
| | |
| We sang at 'Run for the Cure' 2012 (LOVE that pink!!) | ... and looked great in red at the Kelowna Light-up |
Watch for our themed shows, usually at Christmas, Mother's Day, or Summer Solstice - they are great fun and enjoyed by all.
                                                     Yes, we live in a beautiful place!
We are proud members of Sweet Adelines International
- and yes - we DO want to teach the World to Sing!
ABOUT US -
The mandate of our organisation is threefold: Education, Competition and Performance.
Privacy & Data Protection Policies
https://sweetadelines.com/aboutus/privacydataprotectionpolicies/